SEOUL--(
뉴스와이어
)--LG Electronics (LG), a global leader and technology innovator in the flat panel display and audio-video devices market, today unveiled the world's first Full LED 3D TV, the LX9500, in Korea.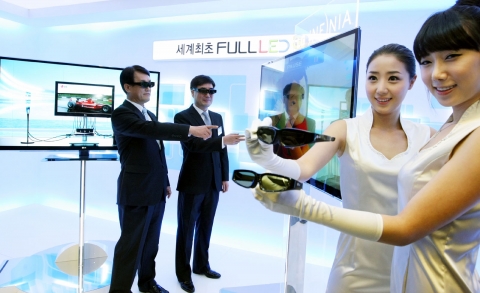 Havis Kwon, Executive Vice President and head of the LCD division of LG (right) Kyoung-joon Park , Senior Vice President and CEO of LG Electronics Korea (left)
As the world's first Full LED 3D TV, the LX9500 uses an innovative backlight structure to deliver spectacular pictures for the ultimate 3D experience. Illuminated by panels of LEDs directly behind the screen (the 55-inch model boasts 1,200 LEDs), the Full LED display provides images of exceptional brightness and clarify for unrivalled picture quality. Complemented by a 10,000,000:1 dynamic contrast ratio and TruMotion 400Hz (480Hz), the LX9500's mesmerizing 3D picture transports viewers right into the heart of the action.
"LG's unique Full LED technology validates LG's position as a global leader in 3D home entertainment," said Havis Kwon, Executive Vice President and head of the LCD division of LG. "By building a full line-up of 3D TVs and cultivating alliances with content and device providers, LG will set a higher benchmark in the global 3D TV industry."
Along with all the advantages of Full LED, the LX9500's innovative exterior is also geared toward creating the ultimate 3D experience. With its slim and sleek INFINIA design, the LX9500 not only draws attention with its 22.3mm slim body but also boasts a 16mm super-narrow bezel that allows for fuller and more expansive 3D images that draws viewers in.
In another first for the industry, the LX9500 supports the Multi Picture Format, the 3D picture standard that enables users to create and enjoy 3D content effortlessly. On the LX9500, this means viewers can immediately see images snapped with 3D cameras without having to first convert them on their PCs.
The LX9500 employs shutter glasses (model: AG-S100) that adds depth by alternatively blocking one lens at a time in sync with the screen's refresh rate. The glasses are comfortable enough to wear for an extended period of time and recharge via USB for up to 40 hours of uninterrupted viewing pleasure.
LG is committed to securing a dominant position in this fast growing market expected to surpass 80 million units by 2014, and aiming to achieve 25 percent share of 3D market in 2010. LG's strategy includes plans to offer a diversified line-up of products in screen sizes from 42 inches to 150 inches utilizing both polarized and shutter type glasses and to launch a family of 3D products including LED LCD TVs, Plasma TVs, Blu-ray disc players and the world's first Full HD 3D projectors.
Available in 47- and 55-inch versions, LG INFINIA 3D TVs will be available to consumers first in Korea followed by North America, Europe, the CIS as well as other key markets by early May.
Specifications:
 3D TV (Shutter glasses type)
 Full LED Slim with Spot Control (Local Dimming)
 INFINIA Design: Ultra Slim Depth, Narrow Bezel, Uni-layer, Uni-color
 Full HD 1080p
 10,000,000:1 Dynamic Contrast Ratio
 TruMotion 400Hz (480Hz)
 Picture Wizard II
 Crystal Gradation with Varying Light (Facet)
 Invisible Speaker (10W + 10W + 5W)
 Infinite Sound
 Clear Voice II
 NetCastTM ( Broadband TV )
 SkypeTM (Video Call Function with optional Video Camera)
 Wireless AV Link
 DLNA ready (with optional DLNA Dongle)
 USB 2.0 (HD DivX, MP3, JPEG play, MPO)
 HDMI 1.4
 Intelligent Sensor
 Smart Energy Saving Plus
 ECO Flower
LG전자 개요
LG전자는 가전제품, 전자제품, 자동차 부품 등 여러 분야에서 기술혁신을 선도하는 글로벌 리더이며 세계 130여 개 사업장에서 사업을 전개하고 있다. H&A (Home Appliance & Air Solution), HE (Home Entertainment), VS (Vehicle component Solutions), BS (Business Solutions)의 사업본부로 구성됐으며 TV, 세탁기, 냉장고, 자동차부품, 사이니지, 로봇 등 다양한 분야에서 시장을 선도하고 있다.
웹사이트: http://www.lge.co.kr
연락처
LG Electronics, Inc. Corporate Communications
Seye Im
+822 3777 3631
이메일 보내기 