'Busan International Seafood & Fisheries EXPO' to be held at BEXCO, Busan···Registration Now Open
- Advancing as the best place for seafood and fisheries diplomacy in Asia
- Application for participation being processed by 20% faster compared with other years
BUSAN--(
Korea Newswire
)--Busan International Seafood & Fisheries EXPO (BISFE), organized by Busan Metropolitan City and BEXCO, will be held for three days from October 29 (Thu) to 31 (Sat) at BEXCO in Busan, with around 350 companies from 30 countries attending by opening approximately 700 booths.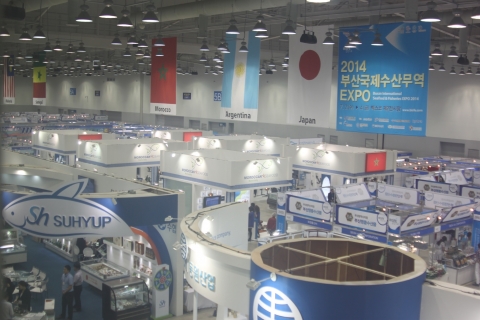 Registration is now open for Busan International Seafood & Fisheries EXPO held Oct 29-31 at BEXCO, Busan.
In terms of scale, BISFE is the third largest seafood and fisheries expo in Asia following China Seafood & Fisheries EXPO held in Qingdao. Nonetheless, it is positioning itself as the best place for seafood and fisheries diplomacy in Asia.
Hosted by Busan Metropolitan City, BISFE has been certified by Union des Foires Internationales (UFI) and selected for eight years in a row as an 'Exhibition of Bright Prospect' by the Ministry of Trade, Industry and Energy of Korea. This year, BISFE will again provide a venue for the best seafood and fisheries diplomatic war in Asia with around ten higher-ranking officials and three - four ministers and vice ministers from foreign governments attending.
Last year's event drew attention in terms of seafood and fisheries diplomacy as it was attended by Maldives' agriculture and fisheries minister, Senegal's vice minister of maritime affairs and economy, Agricultural Trader Officer of the United States Embassy in Korea, Chairman of Japan Fisheries Association, director of Morocco's agriculture and maritime affairs ministry and director of Thailand's fisheries ministry.
It is certain that the director of Morocco's agriculture and maritime affairs ministry and Senegal's maritime affairs and economy minister will once again attend this year's BISFE. According to sources, the director of Indonesia's fisheries office, which participated in last year's event, is considering attendance. In addition, it is being reported that a number of diplomatic envoys in Korea, such as from Myanmar, Japan, Jordan, the Marshall Islands and the U.S., will attend BISFE 2015.
Accordingly, Busan Metropolitan City and BEXCO plan to considerably improve the performance of a trade consulting conference held last year, which produced an outcome of $5.73 million in consultation amount by inviting 745 foreign buyers, and also to focus on boosting domestic fisheries demand by inviting around 800 domestic and international large-scale distribution MDs.
Unlike in the previous years, the invitation of participants for this year's event will be closed earlier during August. As of the beginning of July, approximately 200 companies have sent in applications to open over 430 booths, application for participation being processed by 20% faster compared with other years.
Song Yang-ho, Director of Busan Metropolitan City's Marine and Fisheries Bureau said, "BISFE is positioning itself as the best place for seafood and fisheries diplomacy in East Asia. We will strengthen the role of BISFE as a trade platform of Northeast Asia for fisheries and the related equipment and materials by focusing on expanding marine territory of Korea's fisheries industry and inviting influential buyers from Korea and abroad."
Companies or buyers wishing to participate in BISFE can send in application through BISFE website (
www.bisfe.com/eng
) or to BEXCO Exhibition Team 1 (+82-51-740-7518) or Korea Fishery Trade Association (+82-51-231-8806).
Contact
Contact
BISFE 2015
BEXCO Exhibition Team 1
+82-51-740-7518
Send Email 

This news is a press release from the provider.
Korea Newswire is committed to verifying the transparency of providers and eliminating content errors.
You can receive press releases from this company or in industries of interest via email and RSS for free. Subscribe>
News provided byBEXCO