The 2023 WURI Ranks 423 Universities Worldwide Based on their Innovation Capabilities, using AI-based Evaluation Methodology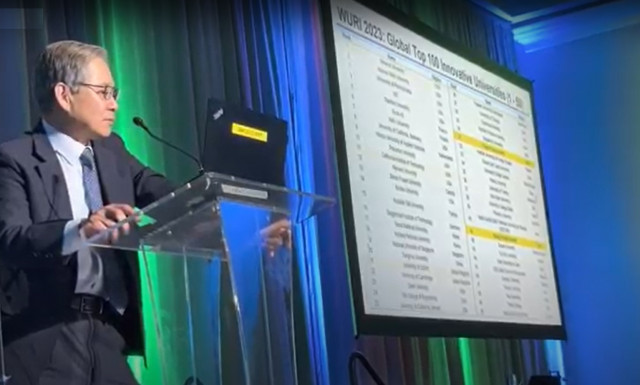 Hwy-chang Moon, Chairman of the IPS-NC, Founding Director of the WURI Ranking presents the rankings at WURI 2023
SEOUL--(
Korea Newswire
) May 23, 2023 -- The World University Rankings for Innovation 2023 (WURI 2023) was released on May 17th at 8:40 p.m. EDT (May 18th 9:40 a.m. KST) at the 3rd Hanseatic League of Universities (HLU) Conference hosted by Florida Gulf Coast University in Fort Myers, Florida, USA. At the conference, President Dr. Michael Martin of Florida Gulf Coast University delivered a congratulatory speech, Professor Emeritus Dong-sung Cho of Seoul National University and the Second President of the HLU, delivered a keynote speech, and Professor Emeritus Hwy-chang Moon of Seoul National University and IPSNC Chairman presented the WURI Rankings.
The world's traditional ranking organizations for universities, such as the UK's Quacquarelli Symonds (QS) and the Times Higher Education (THE), use historical data to evaluate universities. In contrast, the WURI Ranking was established in 2019 to evaluate innovative universities. It collects and evaluates innovative projects pursued by forward-thinking universities.
The WURI is organized by the Institute for Policy & Strategy on National Competitiveness (IPSNC), and co-hosted by four organizations: the Hanseatic League of Universities (HLU), whose membership includes more than 120 universities worldwide; The Institute for Industrial Policies Studies Switzerland (IPS-Switzerland); the United Nations Institute for Training and Research (UNITAR) in Geneva, Switzerland; and the Tailor Institute at Franklin University Switzerland in Lugano, Switzerland. The American Association of Colleges and Universities, which includes more than 1,800 U.S. universities, and many other world university federations participated in the final evaluation process of WURI 2023 with sponsorship from Gyeong-in Broadcasting. The WURI was first introduced at the WURI Conference in June 2020 and is now in its fourth year.
In addition to the Global Top 100 rankings, the WURI released Top 50 rankings in each of the six categories: Industrial Application, Entrepreneurial Spirit, Ethical Value, Student Mobility and Openness, Crisis Management, and Fourth Industrial Revolution.
The WURI has always been constantly evolving, adding new indicators or methodologies to adapt to the changing environment. This year, the evaluation incorporated Generative Pre-trained Transformer (GPT) to increase the reliability and efficiency of the ranking.
The top two positions in the Global 100 are held by Minerva University (U.S.) and Arizona State University (U.S.). The third place is the University of Pennsylvania (U.S.), which jumped two ranks from last year, and the fourth and fifth are held by MIT (U.S.) and Stanford University (U.S.). Other top 10 universities include Ecol42 (France), Aalto University (Finland), University of California-Berkeley (U.S.), Hanze University of Applied Science (Netherlands), and Princeton University (U.S.) also made the top 10.
The regional distribution of the Global 100 includes 31 universities in North America, 38 in Asia, 23 in Europe, 5 in Oceania, 2 in South America, and 1 in Africa. By country, 30 universities are from the United States, 9 from South Korea, 5 from China, and 5 from Australia. The top five universities in Korea are Seoul National University at #17, Incheon National University at #19, Hankuk University of Foreign Studies at #32, a Seoul School of Integrated Sciences & Technologies (aSSIST) University at #58, and National Hanbat University at #60.
In addition to the top 100 universities, we found many other great innovative programs, so we presented them unranked within the 101st-200th and 201st-300th percentiles.
In the Industrial Application category, Minerva University (U.S.) came in first, MIT (U.S.) second, California Institute of Technology (U.S.) third, Stanford University (U.S.) fourth, and Incheon National University (South Korea) fifth, marking the first time a South Korean university made the top five.
In the Entrepreneurial Spirit category, universities from Europe, the U.S., and Asia were evenly represented, with Deggendorf Institute of Technology (Germany) taking first place, Simon Fraser University (Canada) second, Hanze University of Applied Science (Netherlands) third, Aalto University (Finland) fourth, and University of California, Berkeley (U.S.) fifth.
In the "Ethical Value" category, École 42 (France) ranked first, followed by London College University (U.K.) in second, Franklin University Switzerland (Switzerland) in third, the University of Pennsylvania (U.S.) in fourth, and Harvard University (U.S.) in fifth. Universities from Europe, the U.S., were represented in the highest places.
The Student Mobility and Openness category was dominated by Asian universities, with Abdullah Gül University (Turkey) taking first place, Boston University (U.S.) second, the National University of Singapore (Singapore) third, Peking University (China) fourth, and Seoul National University (Korea) fifth.
In the Crisis Management category, universities from various regions were recognized for their ability to respond to crises, with Burapha University (Thailand) ranking first, Instituto Politécnico de Bragança (Portugal) ranking second, Florida Gulf Coast University (U.S.) ranking third, Franklin University Switzerland (Switzerland) ranking fourth, and King Mongkut's Institute of Technology Ladkrabang (Thailand) ranking fifth.
In the Fourth Industrial Revolution category, Samar State University (Philippines) took first place, IU International University of Applied Sciences (Germany) second, Mariano Marcos State University (Philippines) third, National University of Management (Cambodia) fourth, and Lac Hong University (Vietnam) fifth, highlighting the ability of universities in developing countries to innovate and absorb rapidly changing educational environments.
In addition to unveiling WURI 2023, the conference also held a workshop on May 16 to showcase various innovative programs of top-ranked universities. Starting with a keynote speech by President Mike Maggie from Minerva University, which topped WURI 2022 last year, representative cases from each of the six categories of the WURI rankings were presented and discussed by the presidents or vice presidents of the universities, and concluded with Joon Hong, President of the University News Network, emphasizing the role of the media in communicating university innovation stories.
About IPSNC
IPSNC (The Institute for Policy and Strategy on National Competitiveness) was established in 2006 as an organization under the Ministry of Economy and Finance. It inherited the IPS National Competitiveness Ranking research project initiated by the Institute for Industrial Policy Studies (IPS) in 2000. Since 2020, the WURI has been publishing rankings that evaluate the innovativeness of the world's major universities. In 2023 rankings, Minerva University, Arizona State University, University of Pennsylvania, MIT, and Stanford University ranked first through fifth, respectively, among 423 universities evaluated.
Website: https://www.ipsncr.org/
Contact
IPSNC
Hyunjee Hannah Kim
82-70-7012-2718
This news is a press release announced by the provider. The media can use this material for reporting. Korea Newswire is committed to verifying the reliability and transparency of providers and eliminating content errors in accordance with editorial guidelines. If you have any issues with the press release, please let us know.
News provided byIPSNC (The Institute for Policy and Strategy on National Competitiveness)