Pretty Powerful: Mary Kay Inc. Crowned #1 Direct Selling Brand of Skin Care and Color Cosmetics in the World

DALLAS--(
Business Wire
/
Korea Newswire
)--Color us excited: iconic beauty brand and global entrepreneurship company Mary Kay Inc. has been named #1 Direct Selling brand of Skin Care and Color Cosmetics in the World* by Euromonitor International. The honor comes as the company celebrates its 60th anniversary in business, continuing Mary Kay Ash's legacy of empowering women then, now, and always.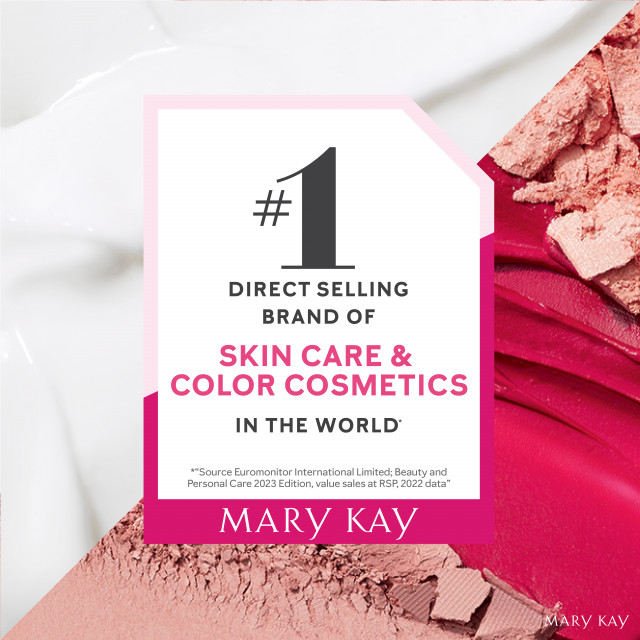 The honor comes as the company celebrates its 60th anniversary in business, continuing Mary Kay Ash's legacy of empowering women then, now, and always. (Graphic: Mary Kay Inc.)
Euromonitor International stands as the foremost provider of global business intelligence, market analysis, and consumer insights with over 50 years of conducting market research across more than 100 countries. Their recognition of Mary Kay not only attests to the brand's unparalleled quality, but also to its vast and continually growing presence on the global stage.
"This tremendous honor from Euromonitor is the cherry on top of our birthday cake," said Nathan Moore, President of Global Sales and Marketing at Mary Kay. "It speaks volumes about our commitment to quality and innovation as well as our incredible community of independent beauty consultants who remain our heartbeat and driving force. Their dedication and passion have painted our past, present, and future with vibrant shades of success."
Mary Kay has a long-standing commitment to advancing skin health, research and development, and nutrition. The brand holds more than 1,600 patents for products, technologies, and packaging designs in its global portfolio.
"We're just getting started," added Moore. "While this is a remarkable business achievement and speaks to the strength of our brand, Mary Kay Ash taught us never to rest on our laurels. Here's to the next 60 years of empowerment, innovation, and success."
*"Source Euromonitor International Limited; Beauty and Personal Care 2023 Edition, value sales at RSP, 2022 data."
About Mary Kay
Then. Now. Always. One of the original glass ceiling breakers, Mary Kay Ash founded her dream beauty brand in Texas in 1963 with one goal: to enrich women's lives. That dream has blossomed into a global company with millions of independent sales force members in more than 35 countries. For 60 years, the Mary Kay opportunity has empowered women to define their own futures through education, mentorship, advocacy, and innovation. Mary Kay is dedicated to investing in the science behind beauty and manufacturing cutting-edge skincare, color cosmetics, nutritional supplements, and fragrances. Mary Kay believes in preserving our planet for future generations, protecting women impacted by cancer and domestic abuse, and encouraging youth to follow their dreams. Learn more at marykayglobal.com, find us on Facebook, Instagram, and LinkedIn, or follow us on Twitter.
View source version on businesswire.com:
https://www.businesswire.com/news/home/20230905783588/en/
Website: https://www.marykay.com
View Korean version of this release
This news is a press release from the provider.
Korea Newswire is committed to verifying the transparency of providers and eliminating content errors.
You can receive press releases from this company or in industries of interest via email and RSS for free. Subscribe>
News provided byMary Kay Inc.