Hyundai and Amazon Partner to Deliver Innovative Customer Experiences and Cloud Transformation
Amazon to launch online vehicle sales in the U.S., starting with Hyundai in 2024, making it more convenient for customers to find and buy their vehicle of choice on Amazon.com and pick it up from their local dealer
Hyundai names AWS as its preferred cloud provider to help facilitate digital transformation of the automaker's operations, production, and customer service
Amazon and Hyundai to bring the Alexa Built-in experience to Hyundai's next-generation vehicles

SEATTLE & SEOUL, SOUTH KOREA--(
Business Wire
/
Korea Newswire
)--Today, Amazon (NASDAQ: AMZN) and Hyundai Motor Company announced a broad strategic partnership to bring innovative new experiences to customers. The announcement was made today at the 2023 Los Angeles Auto Show and a livestream can be viewed here:
https://youtube.com/live/Qzhq1tShTMc
. This strategic collaboration includes Amazon launching online sale of Hyundai vehicles in the U.S. in 2024, Hyundai naming AWS as its preferred cloud provider to help facilitate digital transformation, and the Alexa Built-in experience coming to Hyundai's next-generation vehicles.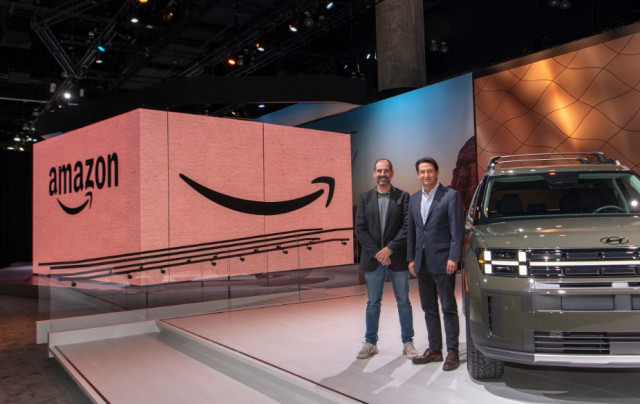 Amazon and Hyundai at the LA Auto Show 2023. Pictured: José Muñoz, global chief operating officer for Hyundai and president and CEO of Hyundai and Genesis Motor North America and Marty Mallick, vice president for Amazon Worldwide Business and Corporate Development (Photo: Business Wire)
"Hyundai is a very innovative company that shares Amazon's passion for trying to make customers' lives better and easier every day," said Amazon CEO Andy Jassy. "Our broad, strategic partnership should do just that, from changing the ease with which customers can buy vehicles online, to making it simple to use Alexa in Hyundai vehicles for entertainment, shopping, smart home adjustments, and calendar checks, to enabling Hyundai to transform their customer experiences and business operations by moving to AWS. We look forward to inventing together for many years."
"Partnering with one of the world's most customer-centric organizations unlocks incredible opportunities as we continue to expand our portfolio, grow our sales network, transition to electrification and realize the future of smart mobility," said President and CEO of Hyundai Motor Company Jaehoon (Jay) Chang. "Amazon is the ideal partner to help realize our vision of progress for humanity, including improving how people and goods move more efficiently and sustainably. Hyundai is the first automotive company available for full end-to-end transactions in Amazon's U.S. store and this is another example of how we continue to push for ways to elevate the customer journey together with our outstanding retail partners."
Some more details around what Amazon and Hyundai are announcing today include:
Vehicle Sales: In 2024, auto dealers for the first time will be able to sell vehicles in Amazon's U.S. store, and Hyundai will be the first brand available for customers to purchase. This new digital shopping experience will make it easy for customers to purchase a new car online, and then pick it up or have it delivered by their local dealership at a time that works best for them. Customers will be able to search on Amazon for available vehicles in their area based on a range of preferences, including model, trim, color, and features, choose their preferred car, and then check out online with their chosen payment and financing options—all within the Amazon experience they already know and trust. This new shopping experience will create another way for dealers to build awareness of their selection and offer convenience to their customers.
Cloud Transformation: Hyundai has selected AWS as its preferred cloud provider to accelerate its digital transformation using broad and industry-leading AWS capabilities—from compute, storage, database, and analytics to generative AI and Internet of Things (IoT). As part of a new multiyear agreement, Hyundai will become a more data-driven organization with a cloud-first technology strategy, migrating its current on-premises applications—which support everything across research, product engineering, and customer engagement—to AWS. Hyundai will prioritize business cases like manufacturing and supply chain to help optimize production and minimize costs, security and disaster recovery for resiliency, and connected vehicle development to bring new features to drivers around the globe. AWS and Hyundai have designed and implemented a Master Builder training and certification program to train Hyundai engineers in critical cloud skills.
In-Vehicle Solutions: Starting in 2025, customers who purchase Hyundai's next-generation vehicles will be able to access the hands-free Alexa experience they have at home, while in their car. Hyundai drivers will be able to simply ask Alexa to play music, podcasts, or audiobooks, set reminders, update to-do lists, and check calendars. Customers will also be able to control their smart home from the road, such as asking to warm up the house on their way home, double-checking doors are locked, and managing smart lighting and Alexa routines. Drivers will also be able to ask Alexa for up-to-date traffic updates or weather reports and voice-control the in-vehicle media player or navigation system—with certain Alexa features accessible even when internet connectivity is intermittent or not available.
About Amazon
Amazon is guided by four principles: customer obsession rather than competitor focus, passion for invention, commitment to operational excellence, and long-term thinking. Amazon strives to be Earth's Most Customer-Centric Company, Earth's Best Employer, and Earth's Safest Place to Work. Customer reviews, 1-Click shopping, personalized recommendations, Prime, Fulfillment by Amazon, AWS, Kindle Direct Publishing, Kindle, Career Choice, Fire tablets, Fire TV, Amazon Echo, Alexa, Just Walk Out technology, Amazon Studios, and The Climate Pledge are some of the things pioneered by Amazon. For more information, visit amazon.com/about and follow @AmazonNews.
About Hyundai Motor Company
Established in 1967, Hyundai Motor Company is present in over 200 countries with more than 120,000 employees dedicated to tackling real-world mobility challenges around the globe. Based on the brand vision 'Progress for Humanity,' Hyundai Motor is accelerating its transformation into a Smart Mobility Solution Provider. The company invests in advanced technologies such as robotics and Advanced Air Mobility (AAM) to bring about revolutionary mobility solutions, while pursuing open innovation to introduce future mobility services. In pursuit of sustainable future for the world, Hyundai will continue its efforts to introduce zero emission vehicles equipped with industry-leading hydrogen fuel cell and EV technologies. More information about Hyundai Motor and its products can be found at:
https://www.hyundai.com/worldwide/en/
or Newsroom: Media Hub by Hyundai.
View source version on businesswire.com:
https://www.businesswire.com/news/home/20231116623117/en/
Website: http://www.amazon.com
This news is a press release from the provider.
Korea Newswire is committed to verifying the transparency of providers and eliminating content errors.
You can receive press releases from this company or in industries of interest via email and RSS for free. Subscribe>
News provided byAmazon.com, Inc.