Mega-Sized International Art Installations by "FriendsWithYou" Are Landing in West Kowloon Cultural District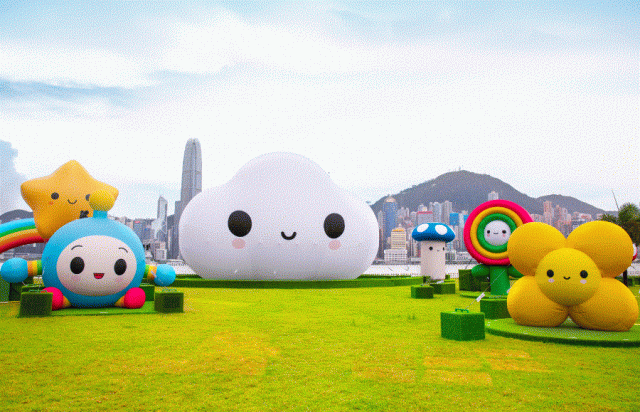 Mega-Sized International Art Installations by "FriendsWithYou" Are Landing in West Kowloon Cultural District
HONG KONG--(
Business Wire
/
Korea Newswire
) October 05, 2021 -- The Hong Kong Tourism Board (HKTB) earlier rolled out a new "Hong Kong Neighbourhoods" - "West Kowloon" programme to encourage the public to rediscover West Kowloon from a new perspective of art and culture. Besides the thematic walking tours in the neighbourhood, the HKTB also worked with the international pop art duo FriendsWithYou to bring the mega-sized art installations to the city from 23 September to 14 October 2021.
The two artists Samuel and Arturo said: "We are thrilled to put our latest art collection, Happy World, on show in Hong Kong, which is the first event of such a remarkable scale for our works in Asia. We hope our collection can spread a message of harmony and joy - the ingredients of life needed in every corner of the world right now. This collection features a family of brightly-coloured characters, including the lead character Little Cloud who is transformed into a huge inflatable sculpture and greet the public in Art Park in the West Kowloon Cultural District, and other characters including Rainbow Worm, Jelly, Hug Bug, and Peanut Butter. The group hops around Hong Kong while sharing their friendship and love and connecting with people from every walk of life. We sincerely hope to bring positive and hopeful vibes to everyone as they spread the vision of Happy World."
At the same time, the Hong Kong Space Museum displays the iconic smiley face of the FriendsWithYou characters on its exterior wall, radiating positive energy and optimism to passers-by.
Through a series of online flash mob videos, AR interactive experiences, and gigantic art installations, the happy characters are taking international audiences on a virtual journey across Hong Kong and its world-class attractions, highlighting the incredible diversity of artistic elements in West Kowloon and encouraging people to explore Hong Kong from an artistic and cultural perspective.
The HKTB has followed their footsteps and recorded their adventures in a collection of fun-packed videos which have been uploaded to the campaign website (
https://arts.westkowloon.discoverhongkong.com
) - giving people who are unable to visit Hong Kong for the time being the chance to share the excitement of its world-class attractions.
About FriendsWithYou
FriendsWithYou is an art collaboration created in 2002 by Samuel Borkson and Arturo Sandoval III with the aim of bringing more joy, kindness, and love to the world. The project is a vehicle for the exploration of emotional healing through culture creation and art. Each work is created with the intention of transcendence, nurturing care for its viewers or participants.
View source version on businesswire.com:
https://www.businesswire.com/news/home/20210923005607/en/
Website: http://www.discoverhongkong.com/eng/inde...
View Korean version of this release
This news is a press release announced by the provider. The media can use this material for reporting. Korea Newswire is committed to verifying the reliability and transparency of providers and eliminating content errors in accordance with editorial guidelines. If you have any issues with the press release, please let us know.
News provided byHong Kong Tourism Board