COP28 UAE President-Designate Visits Award-Winning Kenyan Fintech Leader M-KOPA on the Sidelines of Africa Energy Forum
Minister also meets with former Global High Schools category winner and CEO of Mazi Mobility
Supported by the UAE's pioneering award, the Zayed Sustainability Prize, M-KOPA is on track to reach 4 million underbanked consumers in sub-Saharan Africa by this year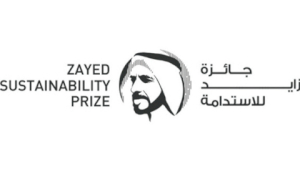 NAIROBI, KENYA--(
Business Wire
/
Korea Newswire
)--During a visit to M-KOPA, one of Africa's leading fintech platforms, COP28 President-Designate and UAE Minister of Industry and Advanced Technology, Dr. Sultan Ahmed Al Jaber, highlighted the importance of small and medium-sized enterprises in creating technologies that create lasting positive change in vulnerable and remote communities, while helping to meet our climate ambitions and keep 1.5C within reach.
M-KOPA, one of the fastest growing companies in Africa, is one of 106 past winners of the Zayed Sustainability Prize, the UAE's pioneering award that recognises groundbreaking contributions across the fields of health, food, energy, water and climate action.
During a tour of M-KOPA's facilities and a briefing by its Managing Director, David Damberger, Dr. Al Jaber, who helped establish the Prize and is its Director General, said: "Prize winners continue to address some of the most pressing sustainable development challenges we face today. They are providing quality healthcare, nutritious food, essential energy, and access to safe water—in short, a better world for us all."
Dr Al Jaber is in Kenya for the Africa Energy Forum to prepare for the UAE's hosting of COP28, which will take place in Dubai at the end of the year and marks the next step in global cooperation on fighting climate change. The summit comes at the crucial halfway point between the landmark Paris Agreement of 2015 and the 2030 target for climate action, with the first global stocktake of emissions cuts providing a valuable opportunity to align global efforts.
This moment also shines a spotlight on the work of M-KOPA and other past winners of the Zayed Sustainability Prize, which have been addressing climate-related challenges in vulnerable countries around the world. In line with the UAE's own priorities, they have been taking important steps to reform land use, transform food systems and ensure a pragmatic energy transition.
Since its founding in 2010, M-KOPA has reduced more than 2 million tonnes of carbon dioxide emissions, connected 400,000 first-time Internet users, and served over 3 million customers across sub-Saharan Africa. To achieve this, the company has built one of the world's most advanced connected financing platforms, deploying US $1 billion in credit to the financially excluded. The company has also provided extensive training and employment, generating more than US $180 million in extra income for its sales agents.
M-KOPA's flexible credit model allows individuals to pay a small deposit and get instant access to everyday essentials, including electric motorcycles, solar power systems, smartphones and then graduate to digital financial services such as loans and health insurance. Most recently, the company successfully closed over $200m in sustainability-linked debt financing to drive women's financial inclusion and reduce greenhouse gas emissions in its East African markets by further developing its solar products offering, making a meaningful contribution to fighting climate change.
David Damberger, Managing Director of M-KOPA, said: "It was a privilege to receive His Excellency Dr. Sultan Al Jaber today and showcasing the remarkable impact we have made through our sustainable solutions."
"Receiving the Zayed Sustainability Prize, marked a pivotal moment in our journey, and we are deeply grateful for the recognition," he added. "At M-KOPA, we have been driven by a deep-rooted commitment to empower underbanked consumers whilst combating climate change through our flexible credit model and clean energy solutions. We sincerely hope that our success serves as an inspiration for other small businesses and entrepreneurs across Africa to apply for the Prize, as it has the power to drive transformative change. Moreover, it is a testament to the UAE's support of African small businesses and it's humanitarian legacy, which continues to empower and uplift communities worldwide."
During his visit, Dr. Al Jaber also met with former winner in the Prize's Global High Schools category and current CEO of Mazi Mobility, Jesse Forrester, who updated the COP President-Designate on his e-mobility company, which operates a fleet of electric motorbikes and tuk-tuks.
Dr. Al Jaber said: "The Global High Schools category was launched to inspire youth to realise their potential and encourage them to pursue careers in the field of sustainability. To see this come to fruition through one of our previous winners speaks volumes on the transformative impact of the Prize. Seeing first-hand what Jesse has built is truly inspiring and should serve as a model for other young entrepreneurs who want to change the world.
Climate change poses a challenge across health, food, energy, and water, amongst other issues, and only by adopting an 'all of the above' approach can we hope to ensure a just transition that leaves nobody behind. SMEs represent 80% of global GDP but the vast majority have not even started their net-zero journeys. The Zayed Sustainability Prize is determined to empower those who strive to create value in the energy transition and demonstrate that climate action can lead to sustainable development. As we approach COP28, I am determined to empower the voices and perspectives of young entrepreneurs, like Jesse, and to ensure that we deliver practical solutions that can change the lives of millions more like him."
In its 15th year, the Zayed Sustainability Prize has transformed the lives of over 378 million people around the world by empowering 106 past winners to make a difference. Each winner in the Health, Food, Energy, Water and Climate Action categories receives US $600,000 to expand the scope and scale of their sustainability solutions. Six winners in the Global High Schools category each receive up to US $100,000. By empowering entrepreneurs to build their solutions, the Prize has to date awarded US $3.6 million.
About the Zayed Sustainability Prize
The Zayed Sustainability Prize is a tribute to the legacy of the late founding father of the UAE, Sheikh Zayed bin Sultan Al Nahyan. The Prize aims to drive sustainable development and humanitarian action by recognising and rewarding organisations and high schools that are delivering innovative sustainable solutions across the categories of Health, Food, Energy, Water, Climate Action and Global High Schools. For over 15 years, through its 106 winners, the Prize has positively impacted the lives of over 378 million people in 151 countries.
*Source: AETOSWire
View source version on businesswire.com:
https://www.businesswire.com/news/home/20230622235262/en/
Website: https://zayedsustainabilityprize.com/
View Korean version of this release
This news is a press release from the provider.
Korea Newswire is committed to verifying the transparency of providers and eliminating content errors.
You can receive press releases from this company or in industries of interest via email and RSS for free. Subscribe>
News provided byZayed Sustainability Prize